Holiday season is round the corner. Entrepreneurs can create a perfect Campaign Management system using Zoho CRM, MailChimp and KloudConnectors in 7 steps without breaking their bank .
Zoho CRM is one of the leading and value for money cloud based Customer Relationship Management system. They have different editions. Every edition has different features and price points. They have free , standard ( $12/month/person), Professional , Enterprise, CRM Plus and Ultimate editions. For creating campaign management system, we recommend you to sign up for at least standard plan. Free plan will work as well. Upload your leads and contact to respective modules in Zoho CRM. If you haven't signed up Zoho CRM yet then you can easily sign up here.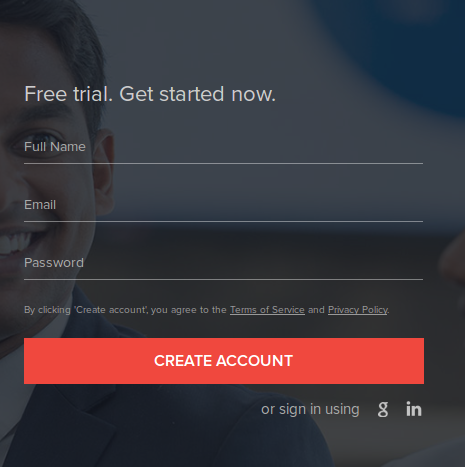 Step II – Sign Up for MailChimp :
MailChimp is probably the best email marketing system. MailChimp has a free plan which allows you to send 12000 emails and offers 2000 free subscribers. If you want to send more emails or want to have more subscribers, you can sign up for higher paid plans.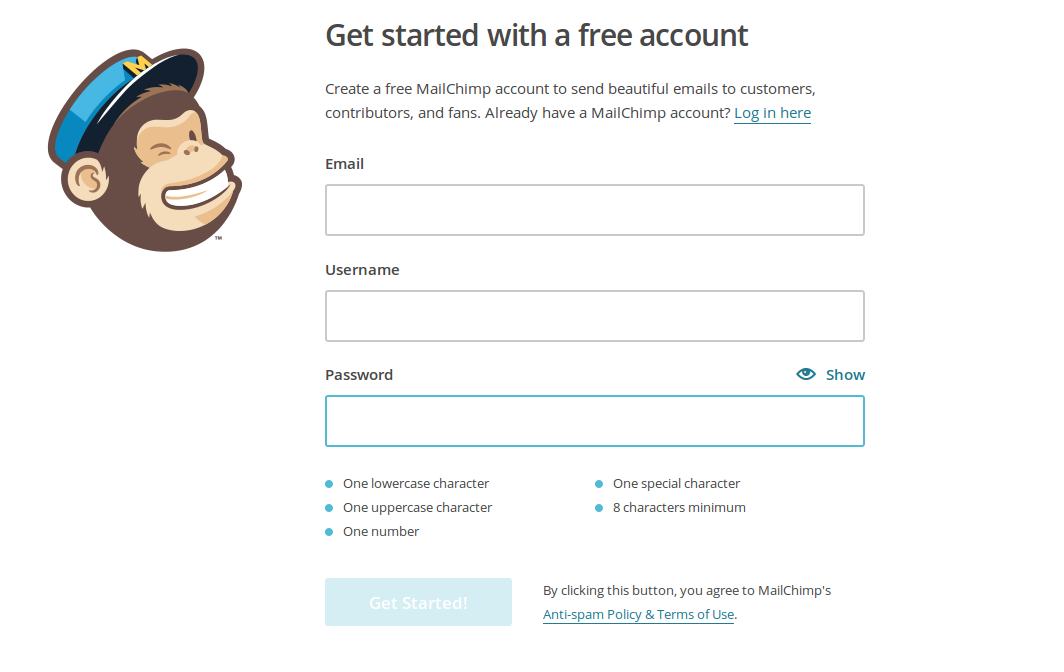 Step III – Sign up for KloudConnectors :
KloudConnectors is a cloud integration platform which connects several popular saas systems. KloudConnectors has more than 55 ready connectors which integrates systems like Zoho CRM and MailChimp. KloudConnectors can integrate several other crm systems and also email marketing systems. It also has several connectors to connect your online stores ( Shopify, BigCommerce, WooCommerce, Magento, 1Shopping cart etc). Zoho and MailChimp connector ( Link) is available for a small sum of $19.99 for a month or at a discounted annual price of $179 per annum. Sign up for any of these subscription. KloudConnectors uses PayPal as a payment gateway so you are always in control of your subscription.

Step IV – Plan your campaign :
Create your email template in MailChimp. You can use standard template in MailChimp or design your own template using simple to use designer. Also create a MailChimp list where you want KloudConnectors to sync your leads or contacts.

Step V – Set up your connector in KloudConnectors :
You would need to follow instructions given in the User Guide of your connector on kloudconnector's site and set up your connector. It is very easy to set up if you follow the instructions. It takes about 3 minutes to set up your connector. You can decide to sync your   Leads/Contacts or Zoho CRM campaign to MailChimp list. You can also map the fields from your Lead/Contacts modules with MailChimp list. KloudConnectors sync your data every 12 hours or on demand. If you want to sync immediately, just press sync now and your data would be synced with MailChimp.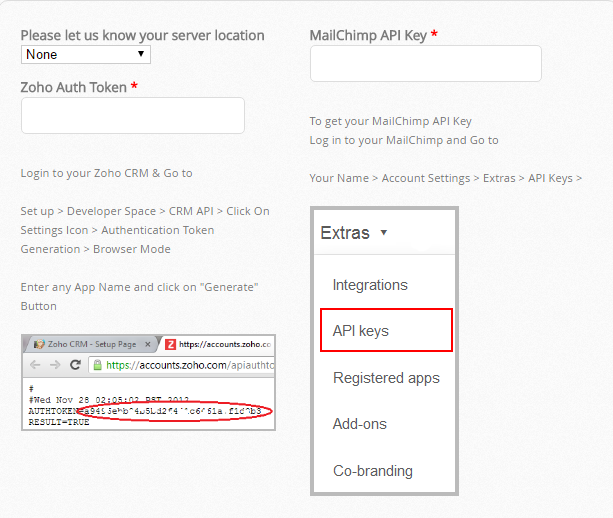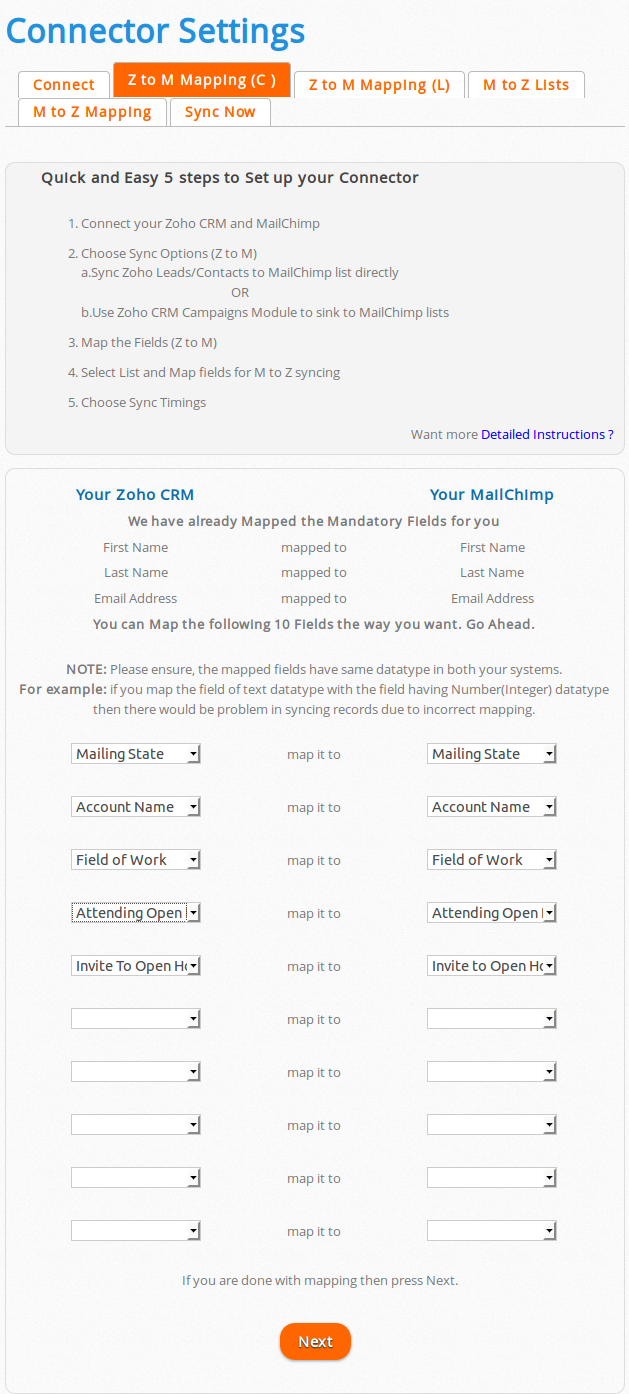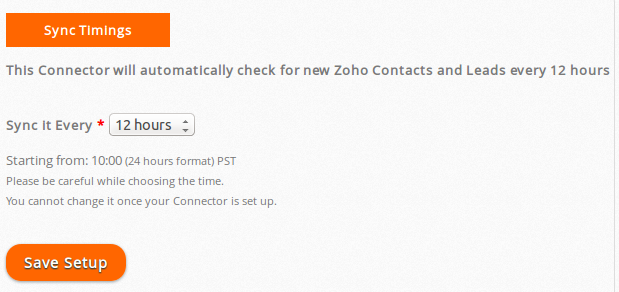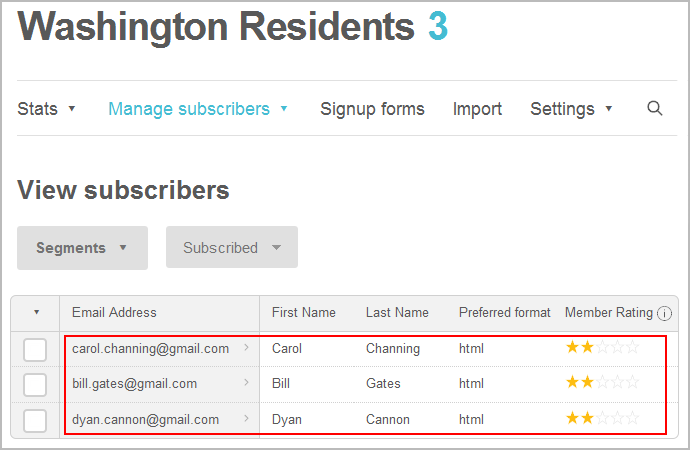 Step VI – Create a campaign in MailChimp using the list ( or segment in the list ) and the template created in earlier steps.
Step VII – Send or schedule your campaign in MailChimp
If you want to see the campaign results like open , bounced etc in Zoho CRM for your leads/contacts then select the checkbox for syncing campaign statistics check box in KloudConnector set up.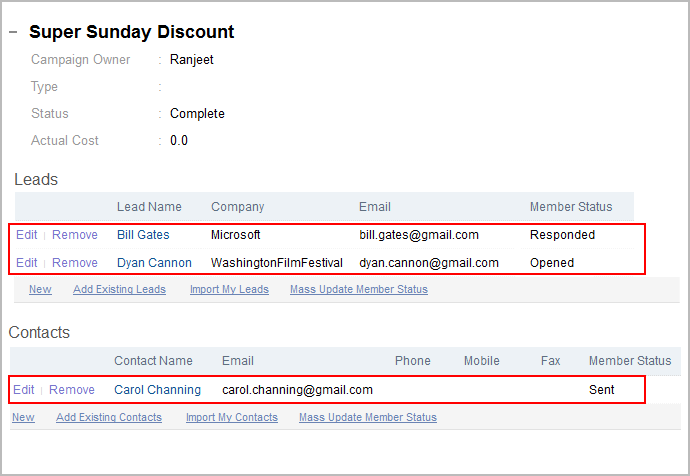 KloudConnectors also offers Constant Contact, Campaign Monitor and iContact Connectors for Zoho CRM. You can follow the same process for creating solid campaign management system using these software. Good luck !
(Visited 38 times, 1 visits today)
10