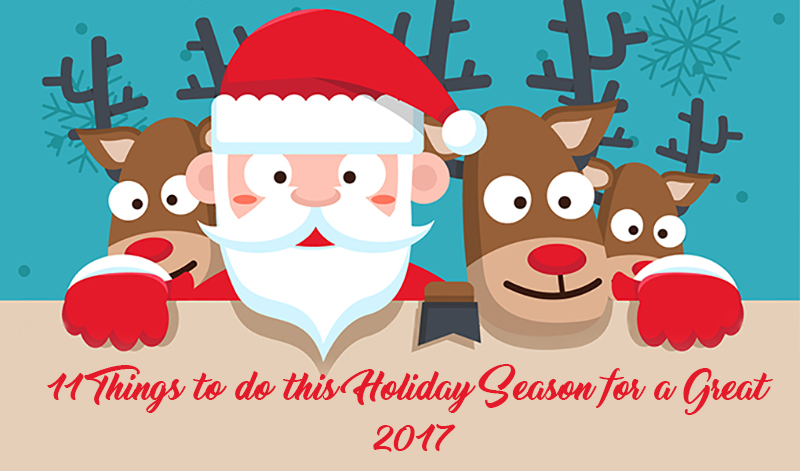 The holiday season is usually a very slow season for most of the businesses. There are two options for every entrepreneurs viz take the time off like others or sit tight and do something for smooth sailing in the new year.
This article suggests 10 things that one can do during this holiday season for better tomorrow.
Get ready for a tax season : The slowdown offers lot of free time. Spend this time on getting yourself and your business ready for the tax season. Most of the small business owners don't like this activity and many of them do this just before the deadlines. Use this free time to put your documents in place. Make accounting entries, calculate your deductions, expenses. Send invoices to your customers. Give all your records to accountants if you use external help. This will ensure you would have less stress during the tax season.
Clean your office.:  Go through all the piles of papers and magazines that have been sitting around and get rid of them once and for all. Remember the office organizing mantra: do it, ditch it or delegate it. File all your papers, dust and vacuum your office. Reorganize your desk and your office so that you can find everything you need in 60 seconds or less.
Review your business : Analyze what worked during the year and what didn't work during the year. Knowing what works and what doesn't will help you plan for a better future for your business
Planning for 2017 : You can spend this time for planning for future. Set goals for 2017. Set up activities, new services as per your goals. Revisit your business strategy
Tidy up your website : During this free time you can have a look at your website critically. Does it convey message to the customers ? Is it responsive ( mobile friendly) ? If not then this is the time to work on it. Remember 60% of the traffic in 2017 would be through mobile devices. Let us know if you need any help here.
Move your systems to cloud : Many organizations are already using cloud apps for their businesses. Have a look at your businesses and see if there is any other business process which needs to go to cloud.
Automate your business as much as possible: Think of automating your business as much as possible. As a small business owner, you are always struggling with bandwidth and resources. It makes sense to take a holistic approach to cloud, moble and automate as many processes as possible. This will give you competitive advantages over others.
Tick of few items from your life's wishlist : Every person wants to do few things to do before dying. Review your list or prepare one if it doesn't exist. Try to tick of few during this lull period.
Get your health check up : During busy time, you don't have time for this. Get your annual health check ups done during this time. Also define your health goals for 2017.
Spend time with family, employees, friends and hobbies: Take a break from your work and spend exclusive time with your family , friends and hobbies. This will make you feel stress free and also foster relationships. Go for opera, movies, golfing, fishing etc.
Holidays season offers for customers / Gifts for customers: If your business allows create tempting holiday season offers for your customers also you can think of gifting your loyal customers.
As you can see, you can make use of this free time to gear up for better 2017 businesswise.
(Visited 295 times, 1 visits today)
4