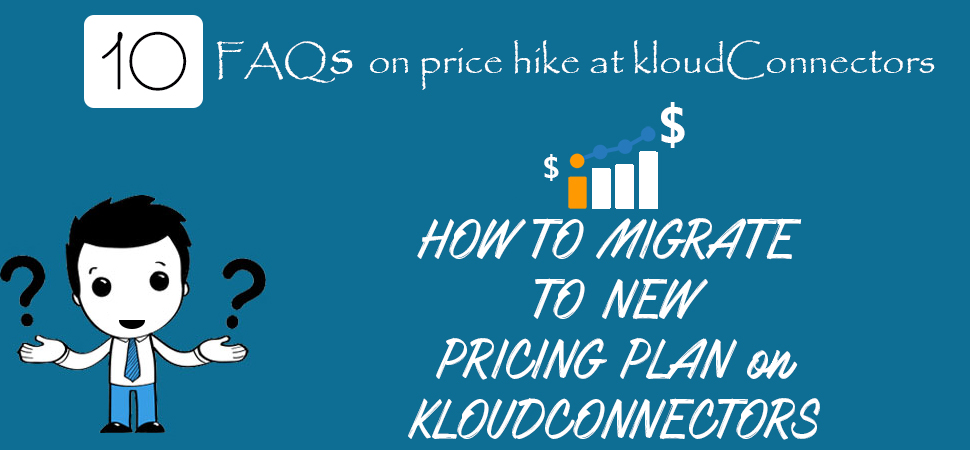 HOW TO MIGRATE TO NEW PRICING PLANs on KLOUDCONNECTORS.
Since our last email about price hike, many customers have asked for detailed steps on how to migrate to new pricing plan. So we thought of creating FAQs for migrating to new pricing plan.
FAQ's on Price Hike
Why is KloudConnectors increasing the prices now ? It has been kept same for last 4 years.
For the last four years, KloudConnectors have charged the same  rates for all the connectors in spite of rising office expenses, currency devaluation, server cost and salary increases. We have made every attempt to avoid the increase, but we refuse to compromise on quality. This is our only recourse. Effective November 5, 2016, we have increased the price of connectors across the board.
Who would be affected with this price rise ?
The changes are applicable to all future and existing customers. This excludes all customers who have bought connector subscription after 5th Nov, as they are already on new pricing plan.
I am using kloudconnectors for several years now, what do I need to do ?
You would need to follow following process:
Login to KloudConnectors
Select your connector from the ready connectors page
It is a good idea to migrate to new plan on the last day of your monthly subscription renewal. You can find this date from your connector kloudconnectors account and check the order date.
Select your plan (Monthly or Annual). Annual plan offers $60 discount over Monthly plan. Since you are using it for few years now, we would strongly recommend you to go for Annual Plan.
Buy the connector . We accept only PayPal at this point in time.
Once you buy the connector and the email is received, send an email to support@kloudconnectors.com with your new order number
Login to your Paypal account and cancel your old subscription with name "SUVICHARTEC".
4. Do I need to change anything in set up ?
No. KloudConnectors will take care of it.
I was on Monthly plan earlier. Can I buy annual plan ? 
Yes. You can buy annual plan and save $60 per annum. In fact, we would recommend you to do this.
What happens if I decide to cancel after 3 months into annual plan ?Do you offer refund for unused months ?
No. We don't offer any refund. Your subscription will expire on your renewal date. Remember, we offer free                 trial period so that customers can be sure that they can use these connectors for their businesses.
Do you have any deadline for existing customers to shift to new plan ?
Yes. We are requesting all the customers to migrate to new plan by Dec 31st 2016.
What happens if we are not able to migrate to new plans by 31st Dec 2016
We will try to reach you again and see if we can migrate you to new plan. So you may continue to use                       connector for few more days. After that we shall turn them off and cancel your subscription.
I didn't renew by 31st Dec 2016 and also couldn't renew after grace period. My connector is turned off. How to enable it again ?
You can login to kloudconnectors anytime and buy the subscription again. There is no time limit for this.
I have few more questions, could you tell us how to contact you ?
You can always reach us on support@kloudconnectors.com or call or chat with us. As usual, we shall resolve       all your queries within 24 hours.
(Visited 159 times, 1 visits today)
9